About

The Phoronix Test Suite was developed out of the tools developed at Phoronix.com since its founding in 2004. The Phoronix Test Suite is designed for Linux benchmarking but also supports other operating systems. Read more about the Phoronix Test Suite.
OpenBenchmarking.org

OpenBenchmarking.org was launched with Phoronix Test Suite 3.0 as a means of sharing benchmark results with the greater community, collectively collaborate over test results, store test profiles and test suites within a centralized cloud repository, and carry out other tests. Visit OpenBenchmarking.org to learn more.
Phoromatic

Phoromatic is an enterprise-designed component to the Phoronix Test Suite to centrally manage entire test farms/clusters of systems, carry out tests on a time or triggered basis, and provide support for other centralized test management purposes. Learn more at Phoromatic.com.
Commercial Support

The Phoronix Test Suite's future development is dependent upon the continued support from organizations and other stakeholders taking advantage of this long-standing, open-source benchmarking software. We are happy to offer custom engineering services, commercial support, sponsorship of new open-source software features, custom test profiles, and other commercial support options for those interested in helping advance this automated Linux benchmarking software. Contact us to learn more.
Contact
Professional support, consulting services, and other custom work can be made available to enterprise customers and organizations, visit commercial.phoronix-test-suite.com. All other community-generated support questions can be directed to the mailing list or discussion forums.
The Phoronix Test Suite can also be discussed on the #phoronix on the FreeNode IRC (Internet Relay Chat) channel where there are Phoronix Test Suite users, many individuals within the Phoronix community, and often Michael Larabel, the lead developer of the test suite itself.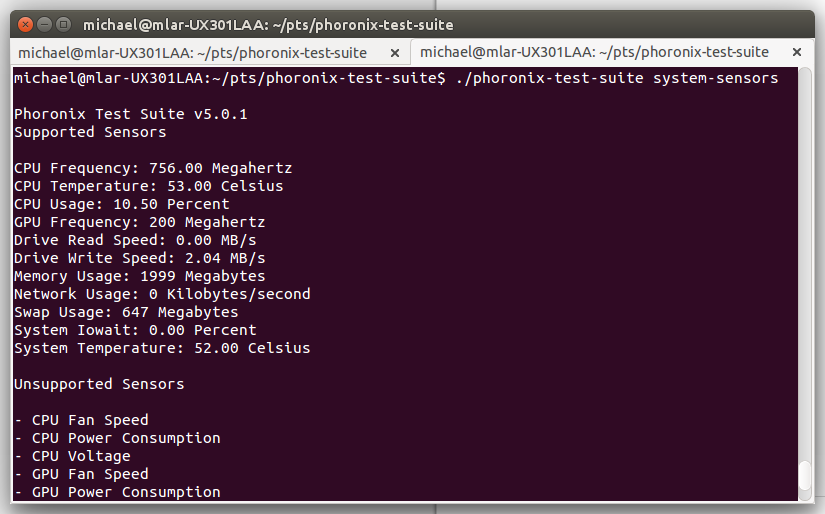 If you are a hardware vendor or software vendor that's interested in submitting patches to the Phoronix Test Suite or working to build a test profile using the Phoronix Test Suite, we would be happy to work with you. Business relation inquiries can be submitted to commercial [at] phoronix-test-suite.com.
For media inquiries, interviews, and similar requests please contact press [at] phoronix-media.com.
Submit all general inquiries to phoronix [at] phoronix.com.